One of the reasons for the Trump-Russia allegations. "Look, he had Russian dressing on his salad early November!"
1EarthUnited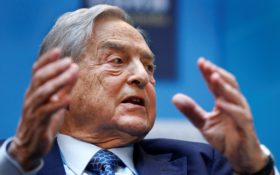 It just might be the biggest collusion scandal in the history of the entire planet… and it's NOT the one the left-wing media is obsessing over!
George Soros, the shadowy billionaire with close ties to Hillary Clinton and the Democrats, is being accused of funding leftist plots, not just here in the United States but around the world.
And now, one nation has had enough.
Hungary is attempting to unmask Soros over what it calls a global "mafia-like network" – and if they succeed in exposing his activities, it could have a major impact on politics right here in the United States.
It could even reveal the extent to which he's alleged to have been secretly bankrolling violent protests against President Donald Trump!
Soros, one of the richest men in the world with a fortune of more than $25 billion, was born in Hungary but lives here in the U.S…
View original post 497 more words